Happy Day everyone.
Welcome to another fun release from Taylored Expressions.
So excited about the new Taylored Expressions: Theater Fold card. Yes you heard me right this is a cool new set that allows you to create a card that is interactive. I used the new Theater Fold Frame with the TE already pre-cut, pre-scored card-stock offered in Toffee and Sugar Cube. In the set you will get enough to create a total of 5 Theater Fold cards. The Theater Fold Frame is sold separately.
I started with the pre-cut Sugar Cube card-stock pieces. Two pre-scored and one regular pre-cut. Before folding I wanted to added some fun hearts so I used the Taylored Expressions: Swiss Hearts Mini Slim Stencil with TE Bitty Blender Brushes and TE Salt Water Taffy, Lavender Glaze and Cupcake Premium inks. I had so move the stencil to cover the entire background as this is one of the smaller stencils but worked just fine and easy to line up.
Now that my stenciled background is complete it is now time to fold my pre-scored lines and put the card together. There will be a video on the TE website how to put this card together. You will add adhesive to the outer edges of the pre-scored and adhered them to the single pre-cut card-stock so that the folded edges meet up in the middle.
You will now die cut your Theater Fold Frame. I die cut mine on some of Taylored Expressions Silver card-stock. I also measured the inner sides of the Theater Fold card and cut some of the Silver Glitter card-stock to adhered inside. The die comes with two strips that will need to be adhered to the frame, these strips will allow for the two sides to slide out for the big reveal. FUN, RIGHT?
Finishing up with stamping the Oh My Word Thank You sentiment on the front top of the card. I made sure to center my sentiment. I took the frame back off to stamp the inside of my card with this fun sentiment also from the Oh My Word stamp set. Then I stamped and die cut the Bitty Borders (hearts) image. I decided to go with black and white for the image so I stamped in TE Oreo and filled in with Copic Sketch marker 100.
I put my frame back on and there you go a fun Theater Fold Card that has a little surprise inside.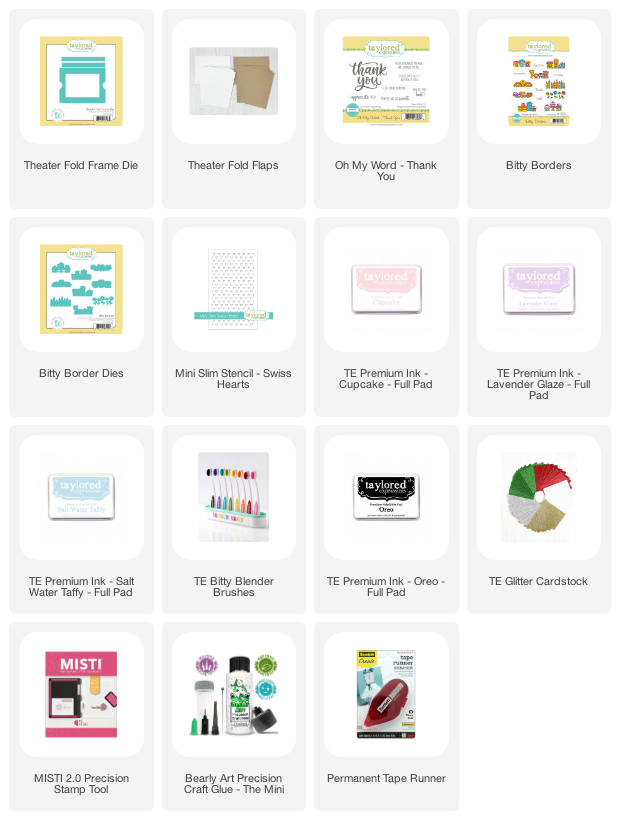 We always need a bright and fun Birthday card. Taylored Expressions just released this awesome new Oh My Word Birthday that I paired up with Party Popper Stencil and Ray of Sunshine Cutting Plate.
I first focused on my background so I took the TE Party Popper Stencil, the Bitty Blender Brushes and TE Premium inks Blueberry, Cookie Monster, Key Lime, Lollipop, Jelly Donut and Fruit Punch to create this colorful and fun background.
Next I die cut the Ray of Sunshine Cutting Plate on some of TE Blueberry card-stock. I adhered it to my stenciled background but left every other ray from the die.
I used Jelly Donut and Lollipop to stamp this cool Happy Birthday from the new Oh My Birthday stamp set. I masked the sentiment so I can stamp it the two colors. I die cut with the new Oh My Word happy Birthday Die and adhered to my card base. I glued the Happy flat and gave the Birthday a little dimension using foam tape.
Finishing up with stamping the May All Your Wishes Come True sentiment from Oh My Birthday stamp set on some white card-stock. I trimmed and also added a backer piece of TE Lime Zest. I also adhered to my card using foam tape for more dimension.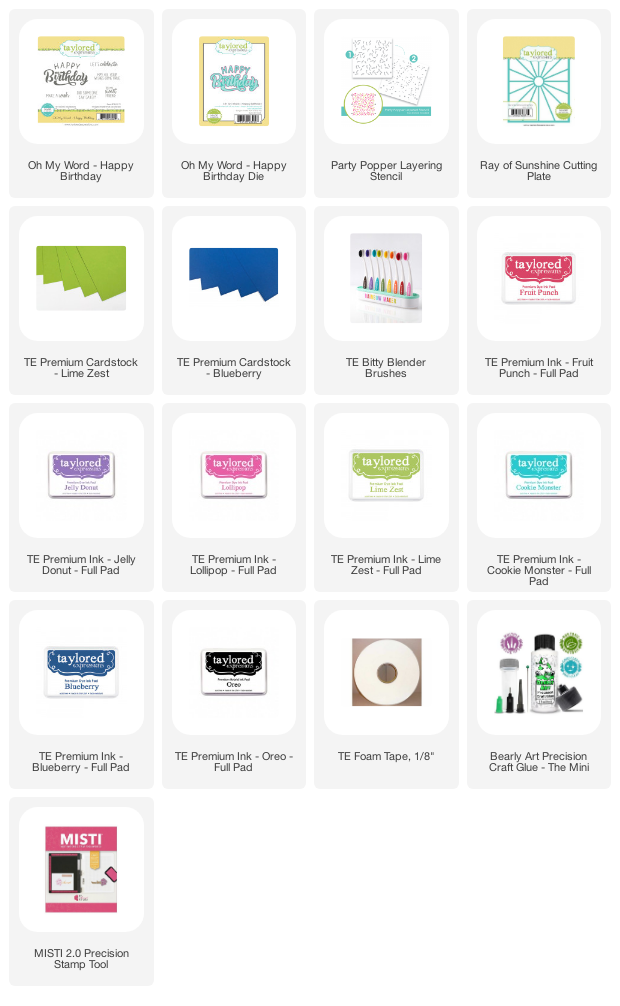 Did someone say COLOR? I love the new Taylored Expressions Bitty Borders I used three of them on this card along with the new Oh My Word Birthday stamp set. I paired it up with TE Mini Slim Square Windows die and lots of TE Premium card-stock (supply list below).
I first cut a piece of card-stock to adhere all my TE Premium card-stock too. The strips are cut in 1/4' each. I cut two of each color and it worked out just as planed. Once my card-stock was adhered and dried to my piece of card-stock, I die cut the Mini Slim Square Windows die and set aside.
Next I stamped out three of the Bitty Borders and colored with Copic Sketch Markers and die cut with the coordinating die set. Now that they are all colored and trimmed I added them to my die cut Mini Slim Square background. I used foam squares so the image is not touching the Mini Slim Square Windows background. Now it is time to add to it to my card base. I used foam tape for dimension.
I wanted a little shine do I added some Silver Drip Drops in all the windows. Finishing up with this fun sentiment from oh My Word Birthday. I stamped and trimmed it so I can adhere it to my card.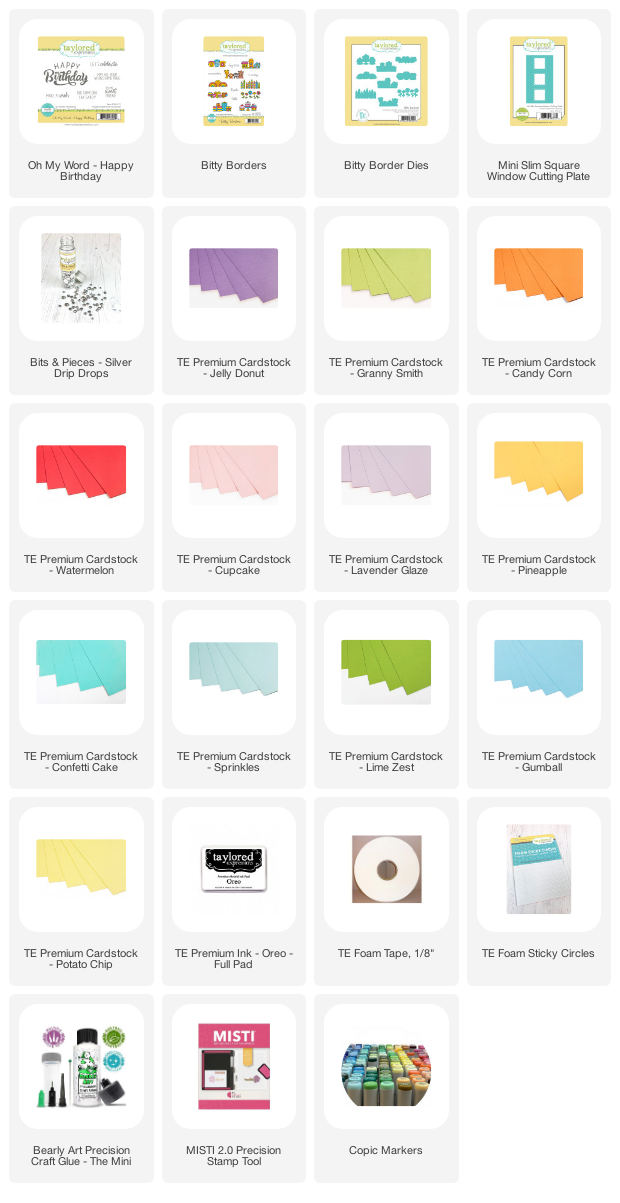 Thanks for stopping by.
Happy Taylored Expressions Shopping!