Happy Tuesday everyone...
So excited to be sharing the Halloween release from Taylored Expressions.
This is my favorite time of year when we start creating for all the year end Holidays.
Let's get started...
How about some sweet and super cute treats? First up we have the new Taylored Expressions: Pumpkin Treat Wrap die, Itty Bitty Tags Halloween and Itty Bitty Halloween clear stamp set. We all love a cutely decorated sucker... right? You can also put other treats with this die.
I started with die cutting the Treat Wrap die on some of TE Premium card-stock Candy Corn, Buttercream Frosting, Dijon and Sweet Potato. I adhered the outlined pumpkin to the base using Bearly Art Precision Crafty Glue. I then die cut the stems of the pumpkins on TE Cilantro card-stock and also adhered to the pumpkins and let dry.
While I wait for the pumpkins to dry I die cut the Itty Bitty Tags Halloween on some TE Toffee card-stock and also some white card-stock. I stamped the Itty Bitty Halloween sentiments on the tags and set aside. Next I cut some Burlap string for each pumpkin.
Now time to put them together. I put the yummy sucker in the middle and then strung the burlap through the holes where it ended up where I can tie a box in the front, but first I need to add the Itty Bitty Tag to the string then tie the bow. You can trim the bow down if the string hangs too low.
HERE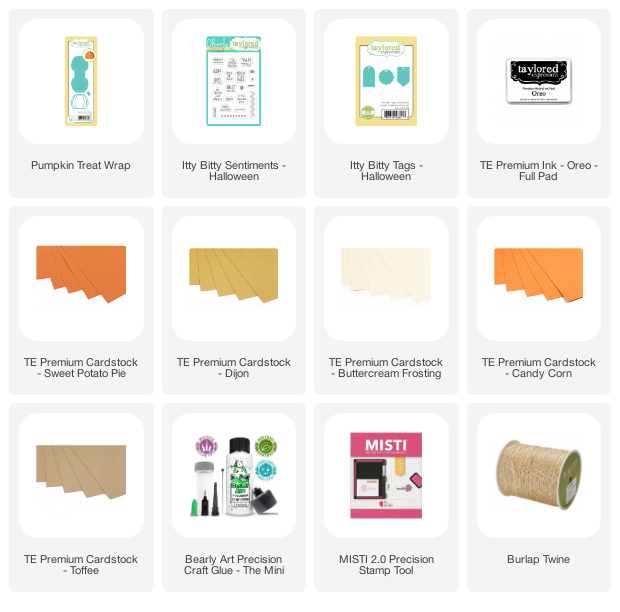 Next up we have this spooky cute TE On The Block BOO that I paired up with Millies Haunted Halloween. Both are brand new and available for purchase today.
I took the Millies Haunted Halloween pumpkin image and stamped out this fun background using Oreo ink then colored using Copic Sketch markers. I stamped out this fun new On The Block BOO using Oreo ink and die cut using the On The Block Shadow die. For dimension I die cut the On The Block BOO Shadow die a few times then layered and added to my stamped background.
Finishing up with die cutting the Simple Strips Backer die on TE Potato Chip Premium card-stock then stamping this fun sentiment from the Millies Haunted Halloween stamp set. I added the Happy Haunting sentiment to my card base using foam adhesives.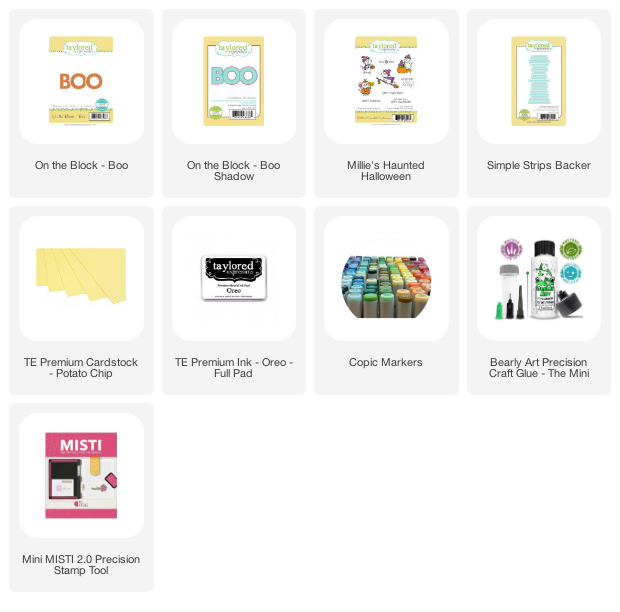 How about those fun Halloween colors? I just had to incorporate them all. I used TE Premium card-stock: Sweet Potato Pie, Oreo, Potato Chip, Candy Corn and Jelly Donut. I just strips different widths and added them to my card base using liquid glue.
I then took the awesome new Spooky Night Stencil, All That Glitter Oreo and Glitter Grab and got my sparkle on. I used the Glitter Grab with the Spooky Night Stencil then added the Oreo glitter and set aside to let dry.
Next I stamped out this fun new Full Circle Halloween and colored with various Copic Sketch markers. I then took some fine scissors and trimmed around so I can add it to my card using foam tape for a little dimension.
Finishing up with this sentiment from the Full Circle Halloween stamp set. I stamped it on a strip of Jelly Donut card-stock using Oreo ink and adhered it to my card.
Now who's ready for Halloween?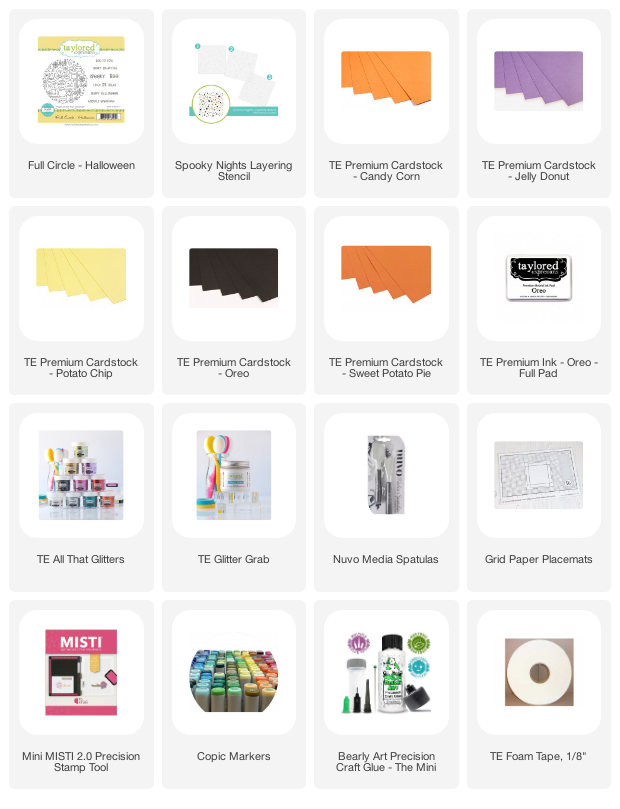 Thanks for stopping by.
Happy Taylored Expressions shopping.